How to qualify leads with Teamleader
No business can truly blossom without proper lead qualification. However, Gleanster Research shows that 75% of leads aren't suited for sales. If those leads do slip into your sales process, they will be hard to sell to or barely interested. We're talking unenthusiastic phone calls, missed appointments and unanswered emails that just cost time and money.
A good lead qualification process will help you gather information and decide if your potential customer fits the ideal profile. But this is not something you can scribble on a piece of paper. You'll need the support of tools to store and process that information.
Luckily, Teamleader is the perfect tool to complement your lead qualification process. Teamleader lets you collect and process the right data to identify which leads are a good fit (or not) so you can focus on the right opportunities and close deals faster. This blog shows you how to qualify leads with Teamleader and generate more revenue in the end.
Give your sales and marketing a strong boost to generate more revenue and grow your business. Find out how Teamleader can help.
Collecting lead information
First and foremost, to ace lead qualification, you need to collect all the information you need to paint a clear picture of a contact. You can collect this data in multiple ways with Teamleader: through LinkedIn, web forms and email.
Web2Leads
Not following up on leads quickly enough (or maybe not even at all) because of a lack of time or overview is a losing proposition. Teamleader's Web2Leads integration takes care of that in 4 simple steps:
You up a form on your website using Jotform, Wufoo, Unbounce and Formstack or by building your own custom form.

Your website visitors fill this in, in exchange for more information, a price list, a survey or any other offer.

Their contact information is pushed to Teamleader, automatically adding a new contact and a new deal.

New leads can start pouring into your Teamleader database, ready for qualification and - of course - perfect follow-up.



Hosting an event? Create a special form for the occasion to collect attendees' contact details. With this information you can discover if this event paid off in terms of sales in the statistics section: how many leads did you qualify or convert in the end?

Teamleader allows you to perfectly track the way from lead to customer. From registering a lead, to following up, send a quotation, and so on you can manage your entire business. Discover more which steps Teamleader helps cover in this infographic.
LinkedIn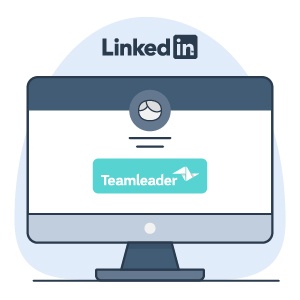 LinkedIn holds a treasure of business information: a person's job title and the way they describe their role might indicate whether a person's a decision maker, the industry they're active in, and so on. Teamleader's LinkedIn plug-in allows you to automatically add a prospects' profile details to Teamleader.
For example, if you received someone's business card you can jump to their LinkedIn profile and push more information to Teamleader to get more ammo to qualify this lead. Moreover, you can also add a company's employees, to get a complete scope and make sure you can talk to the right people fast.
Email tracking
If you sync your email client (i.e. Outlook, Office 365, Gmail) with Teamleader, you can push contact information as well as in- and outgoing emails from your email client's database to your CRM.

In addition, you can also add unknown email contacts directly to Teamleader, and save all emails sent between you and your CRM contacts to the database. End result: perfectly tracked communication without copying and pasting.
Without any hassle, Teamleader allows you to save contact data in your CRM incredibly fast and enrich it with additional relevant information. Which not only forms the basis for your lead qualification, but it's also an easy-to-use, low effort way to build a customer and lead database. Up next? Managing and making sense of all that data.
Optimise your lead management & qualification
A well-organised view of all incoming leads - regardless of whether they're interesting for you or not - is an absolute must. Teamleader gives you that as well. Here's where your lead qualification process picks up, based on factors like urgency and timing.
Keep track of leads with Deal phases
In Teamleader, a Deal is basically a sales opportunity. To closely track the progress and make sure you take the right follow-up action for every new contact, Teamleader enables you to automatically turn every new contact into a deal. You can split up each deal in different phases: connect, qualify, demo, close, won, and so on. Based on the color codes, you instantly see which contacts require which action. If the deal is in red, the more pressing it is.
If a deal got rejected, you can also add a 'lost reason'. For example, if someone tells you that right now isn't a good time to make a purchase but they might reconsider in 6 months, you can plan a follow-up call then. A double qualification win: you don't lose time and effort on a useless pursuit, but you do keep a good lead for the future.

In addition, tracking 'lost reasons' allow you to make strategic, data-driven decisions that will pay off in the long-run. For example, if a certain number of people claim your price is too high, you can start a campaign that demonstrates the value of your product or maybe even consider reducing your price or offering. What's more, you could also segment these people to identify their common characteristics and learn which type of lead to target less.
Create follow-up tasks and calls automatically
As mentioned before in the 'email tracking' part, you can sync your calendar with Teamleader, enabling you to convert from one calendar to another. Moreover, create tasks automatically to follow up on next steps: you might want to plan a call through Teamleader's VoIP integration, schedule a meeting or follow-up mail for next week, and so on. If a lead doesn't respond to a call, Teamleader will automatically suggest to call back so you don't forget.
These features all have timing aspects in common. Because with lead qualification, the question is not only which leads you should/shouldn't chase, but when to chase them.
'Separating the wheat from the chaff' with custom fields, tags and segments
The ability to separate hot, promising leads from the not-so interesting ones is indispensable in your quest for the right leads.
Consequently, this makes segmentation an essential element of lead qualification. Splitting up your database will help you plan a proper follow-up action and target your messaging better. You can create segments by adding tags or custom fields.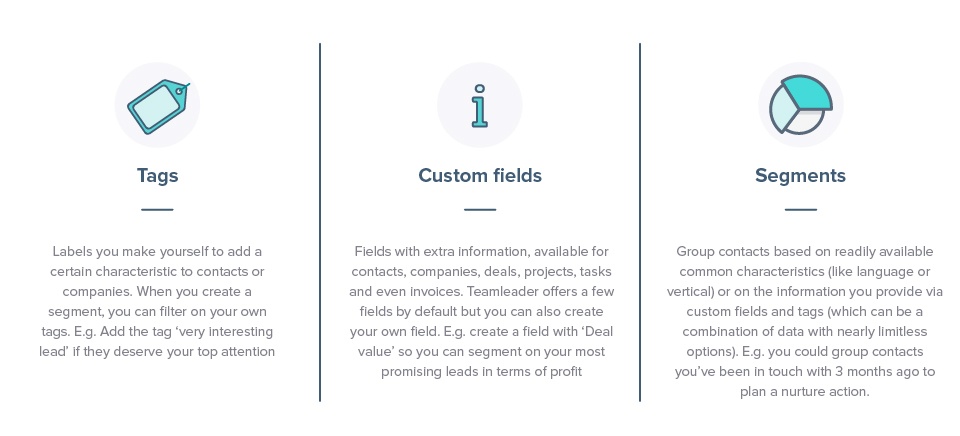 Lead qualification is a continuous learning process

We already talked about the timing aspect of qualification. Custom fields are perfect for this: add 'Closing date' if you want to indicate when you expect to close a deal. Suppose a deal will close in 6 months, mark it with the lost reason 'bad timing'. In the meantime, keep the lead warm and nurture it with relevant content to showcase your expertise. For example, a garden architect can send two useful emails with tips to make your garden winter or summer-proof. Tip: send email campaigns with Teamleader's integration with an email automation platform such as Mailchimp or Campaign Monitor.
Teamleader allows you to discover the best lead sources through customer data management. Always ask a potential lead how they got in touch with your business. Did they find you through your website, talked to you at an event or discover you through a magazine? Teamleader's lead source statistics allow you to measure the conversion rate per source, and spend your money wisely. For example, if you get a lot of great quality leads through your partner network, it's wise to collaborate more with them.
The way you qualify leads requires you to take a step back from time to time, learn which questions you need to ask and take a look at statistics to finetune your strategy. Teamleader helps you detect trends and take strategic decision to take your sales to the next level.
Want to explore more about how Teamleader can help grow your business? Try Teamleader 14 days for free.
Zonder goede leadkwalificatie kan geen enkele onderneming echt bloeien. Uit onderzoek van Gleanster Research blijkt dat 75% van de leads uiteindelijk niet geschikt zijn voor een verkoop: je wil dus vermijden dat je je inspanningen op hen richt. Telefoontjes en afspraken die hun doel missen, kosten ten slotte alleen maar tijd en geld.
Een goed leadkwalifcatieproces helpt je informatie verzamelen en beslissen of je je inspanningen op deze potentiële klant wil richten. Je hebt de ondersteuning van de juiste tools nodig om dit soort informatie te verwerken.
Teamleader is de perfecte software om je daarbij te helpen. Met de tool kan je de nodige data verzamelen en verwerken, zodat je kan identificeren welke leads een goede match vormen met je bedrijf. Daardoor richt je je op de juiste verkoopkansen en sluit je sneller deals. n deze blog lees je hoe je leads kwalificeert met Teamleader en hoe je uiteindelijk meer omzet genereert.
Leadgegevens verzamelen
Om leads te kwalificeren heb je allereerst informatie nodig om een beter beeld te vormen van je contactpersoon. Je kunt deze data op verschillende manieren verzamelen met Teamleader: via webformulieren, LinkedIn en e-mail.
1. Web2leads
Je verliest een voorstel gemakkelijk door leads niet of niet snel genoeg op te volgen. Dit kan gebeuren door tekort aan
tijd of een gebrek aan overzicht. Dankzij Teamleaders integratie met Web2Leads los je dat op in 4 eenvoudige stappen:
Je plaatst een webformulier op je website met Jotform, Wufoo, Unbounce of Formstack, of je bouwt gewoon je eigen formulier.
Je websitebezoeker vult het in, bijvoorbeeld om meer informatie, een brochure of andere aanbiedingen te ontvangen.
De contactinformatie van de websitebezoeker wordt automatisch aan Teamleader toegevoegd.
Zo vul je je database met nieuwe leads, klaar voor kwalificatie en opvolging.
Organiseer je een evenement? Maak een nieuw formulier aan voor de gelegenheid. Verzamel de contactgegevens van aanwezigen en ga achteraf na wat het evenement opleverde. Met behulp van de statistieken ontdek je namelijk hoeveel bezoekers uiteindelijk ook klant zijn geworden.
Met Teamleader kan je de weg van lead naar klant moeiteloos opvolgen. Ontdek in deze infographic hoe Teamleader je bij elke stap ondersteunt in je lead management.
2. LinkedIn
Op LinkedIn vind je belangrijke bedrijfsinformatie terug: de functietitel de manier waarop iemand zijn rol beschrijft, kan duidelijk maken of deze persoon gemachtigd is om beslissingen te nemen. Gebruik de LinkedIn-plug-in om die informatie automatisch aan Teamleader toe te voegen..
3. E-mailtracking
Synchroniseer je e-mailprogramma (Outlook, Office 365, Gmail) met Teamleader om contactinformatie, in- en uitgaande e-mails aan je CRM toe te voegen.
Daarnaast kan je ook rechtstreeks onbekende contacten aan Teamleader toevoegen en al het e-mailverkeer tussen jou en je CRM-contacten in je database opslaan. Het eindresultaat? Perfect opgevolgde communicatie, zonder knippen en plakken.

Zonder enige moeite kan jij dus alle contactdetails razendsnel in je CRM opslaan én verrijken met extra informatie. Dat is de basis voor je leadkwalificatieproces. Daarnaast is het ook nog eens een makkelijke manier om een lead- en klantenbestand uit te bouwen. De volgende stap? Je data beheren en analyseren.
Optimaliseer je leadmanagement- en kwalificatie
Teamleader biedt een overzicht van al je leads: je leadkwalificatieproces start dus met dit dashboard.
1. Volg leads op met behulp van dealfases
Een deal in Teamleader staat gelijk aan een verkoopkans. Transformeer nieuwe contacten automatisch in een deal en gebruik die om je voortgang nauwgezet op te volgen. Je kan zo'n deal immers in verschillende fases opdelen: nieuw, contacteren, kwalificeren, aanvaard, geweigerd en meer. Op basis van kleuren zie je in één oogopslag welke acties je moet ondernemen.
Wordt een deal geweigerd? Voeg dan de reden toe. Stel bijvoorbeeld dat een lead je vertelt dat de timing niet ideaal is, maar dat hij de aankoop over zes maanden opnieuw wilt overwegen. Met Teamleader kan je dan snel en eenvoudig een telefoontje inplannen om dit verder op te volgen. Op vlak van kwalificatie is dat een dubbel voordeel: je verliest geen tijd en moeite aan een zinloze jacht, maar je bewaart wel een goede lead voor in de toekomst.
Daarbovenop kan het bijhouden van 'redenen voor verlies' je helpen om strategische beslissingen te maken op basis van reële data. Vind een significant deel van je leads de prijzen te hoog? Dan is het misschien tijd om die te gaan herzien óf een campagne op poten te zetten die de waarde van jouw aanbiedingen onderstreept.
2. Maak automatisch taken en calls aan ter opvolging
Door je kalender te synchroniseren met Teamleader kan je taken vanuit de ene agenda ook in de andere bekijken. Die taken kan je automatisch aanmaken in Teamleader om zo een strakke opvolging te garanderen: misschien wil je een call inplannen via Teamleaders VoIP-integratie of een meeting of e-mail ter opvolging in je agenda zetten. Beantwoord een lead een telefoontje niet? Dan stelt Teamleader een nieuw moment voor om terug te bellen.
Al deze features draaien om de juiste timing. Bij leadkwalificatie gaat het er immers niet alleen over welke leads je al dan niet moet contacteren, maar ook wanneer.
Onderscheid leads van elkaar met behulp van custom fields, tags en segmenten
De mogelijkheid om veelbelovende leads van de minder interessante te onderscheiden is een belangrijk voordeel in je zoektocht naar de juiste leads.
Daarom is segmentatie een essentieel onderdeel van leadkwalificatie. Door je database op te splitsen kan je nog meer doelgerichte opvolgingsacties en communicatie inplannen. Je kan segmenten creëren door tags of custom fields toe te voegen.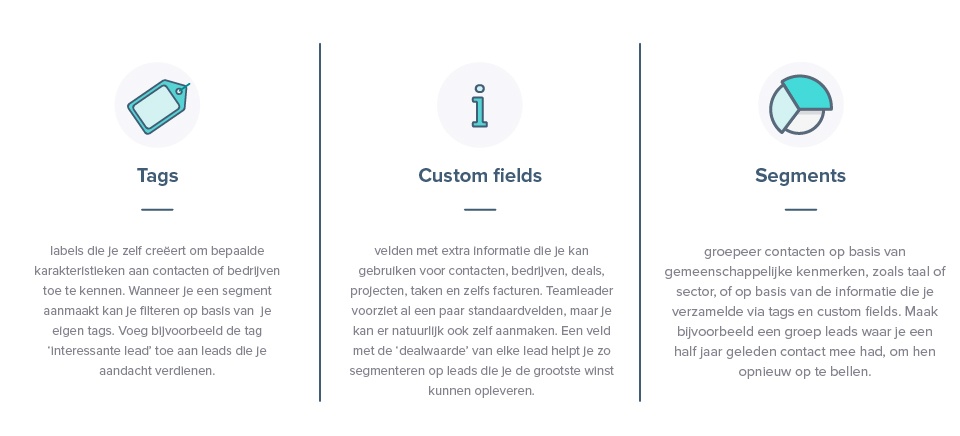 We benadrukten eerder al dat timing een belangrijk aspect is bij kwalificatie. Custom fields vormen daar de perfecte ondersteuning bij: voeg bijvoorbeeld 'verwachte verkoopdatum' toe om te voorspellen wanneer je van plan bent te closen.
Leadkwalificatie is een voortdurend leerproces
Met Teamleader achterhaal je de beste bronnen van leads via de CRM-module, waar je de herkomst van elke lead kan ingeven. Vraag een lead daarom altijd hoe ze bij jou zijn terechtgekomen: via je website, een evenement of in een magazine? Met de in-app statistieken over leadbronnen meet je makkelijk de conversieratio per kanaal, zodat je je geld slim kan spenderen. Als je bijvoorbeeld veel leads binnenkrijgt via je partnernetwerk, is het een goed idee om die samenwerkingen nog meer te versterken.
Kijk even naar je verkoopgeschiedenis en duik in de statistieken om je verkoopstrategie aan te scherpen. Teamleader helpt je om trends te ontdekken en de juiste beslissingen te nemen om je leadkwalificatie te versterken.
Meer leren over hoe Teamleader je onderneming kan helpen groeien? Ontdek welke features jouw sales en marketing een boost kunnen geven.
Smarter lead management

Why do you need smarter lead management? Every business has its own particular objectives. There are two that stand out though: more sales and more growth. In this whitepaper you'll discover how increase your sales and growth by using the right tools and methods in your lead management.