Teamleader quotations are signed twice as fast. Thanks to the renewed Cloudsign.
Quotations created with Teamleader and sent using our updated Cloudsign platform are signed twice as fast as quotations sent via email. Their average sales cycle shrinks by almost 10 days as a result.
In addition, we see that 28% more quotations are signed when offered via the renewed Cloudsign.
Tip: what is Cloudsign again?

Cloudsign is an online platform from Teamleader.

It allows potential customers to view and sign quotations online. The signed quotations are 100% legal, and the platform's professional look and feel inspire confidence. The layout is professional in your house style, and everything works extremely fast. Has your prospect viewed or even signed your quotation? Then you receive a notification in Teamleader, and the deal that goes with the quotation automatically changes to 'Won'.
That's great! Because a faster quotation process costs less time and money. Remember, the actual paid work only follows after the signed quotation. Usually, anyway.
This blog uses anonymised data from 200+ Teamleader users to prove why Cloudsign 2.0 will be the hit of this coming spring. We reiterate the universal benefits of online quotations with Teamleader and explain in detail the impact Teamleader has on your sales process.
Speed up that quotation process!
A slow quotation process slows down sales and costs you money. Do the math:
Day 1 = a potential customer requests a quotation.


Day 1 + Y = the moment you send out your quotation. Y = the number of days you needed to prepare your quotation.


Day 1 + Y + Z = the moment the customer accepts your quotation. Z = the number of days the customer needed to examine your quotation. More often than not, you'll have to factor in some 'back-and-forth' time: the customer gives feedback, you listen and possibly adjust your quotation.


Day 1 + Y + Z + W = the moment you receive the signed quotation and work can begin.
This running back and forth adds up quickly. But not for Teamleader customers who use Cloudsign.
For them, W's value is usually zero: as soon as a quote is signed, they get a notification in Teamleader, and work can start immediately.
Sales people who receive signed quotations in their mailbox may lose a day or two. If you send quotations in an even less digital way, such as by post, the time gap widens even more.
Remember: between (Day 1) and (Day 1 + Y + Z + W), the sale is not yet complete. The real work has not yet been delivered, but all that time has gone into preselling. Aka unpaid work.
Cloudsign 2.0
Two years ago, we calculated that Teamleader customers sell 23% more and 35% faster thanks to Teamleader.
Recently, we improved our Cloudsign platform. How much better is it? A lot better. Just call it Cloudsign 2.0. The aim: to give our customers even more chances of sales success. We dug into our beta testers' data to see if that worked: 200 customers, more than 9000 quotations sent. To keep ourselves honest, and not just be all talk.
What did we find out? Quotations sent with Cloudsign are signed twice as quickly as others.
Attention! Cloudsign does not guarantee an accepted quotation. Obviously: a lot depends on your price and offer.

But look at it this way:

A Teamleader quote via Cloudsign is like a beautifully wrapped birthday present that you put little effort into and which arrives perfectly on time: your customer will remember it for a long time.
What did we improve?
Cloudsign made a giant leap forward thanks to these tweaks:
Easier to discover in Teamleader: what you don't use, you can't love. So we made sure that Cloudsign is less tucked away, for all your quotation pleasure.


Even more professional & in line with your corporate identity: Feel free to view Cloudsign as an extra asset that gives your company a professional, smooth and modern look. Because you only get one time to make a great first impression.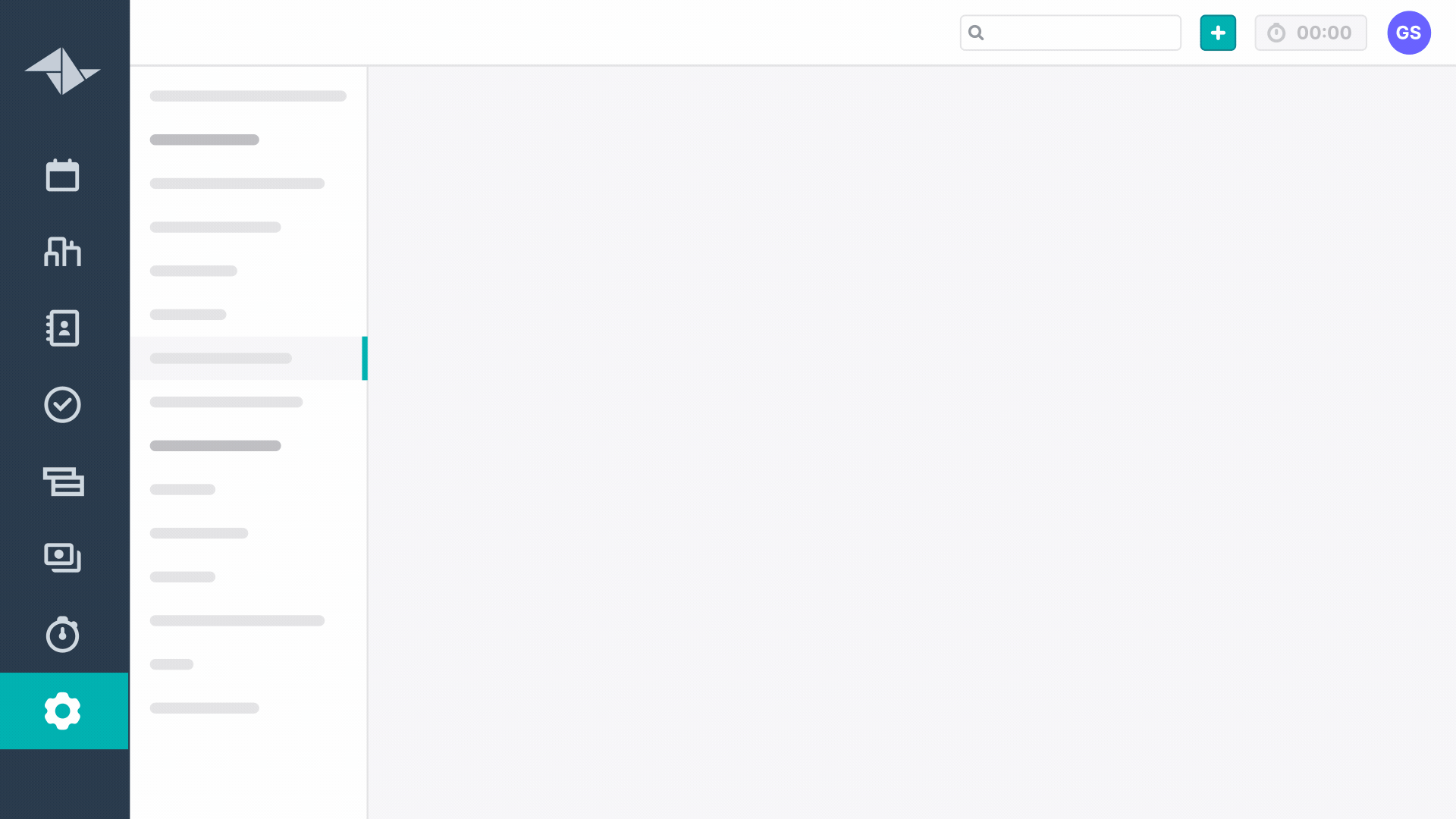 A signed quotation is 100% legally binding: it was before, but now it also contains the IP address of the signer and a timestamp in line with all legislation, including that on privacy.


More user-friendly for the end-user, aka your customer: accepting and signing the offer became easier, as well as downloading and giving feedback.


Much more mobile-friendly

: whatever the platform of your end customer, everything is completed much more smoothly. No matter whether it is on a PC, Macbook, tablet or smartphone.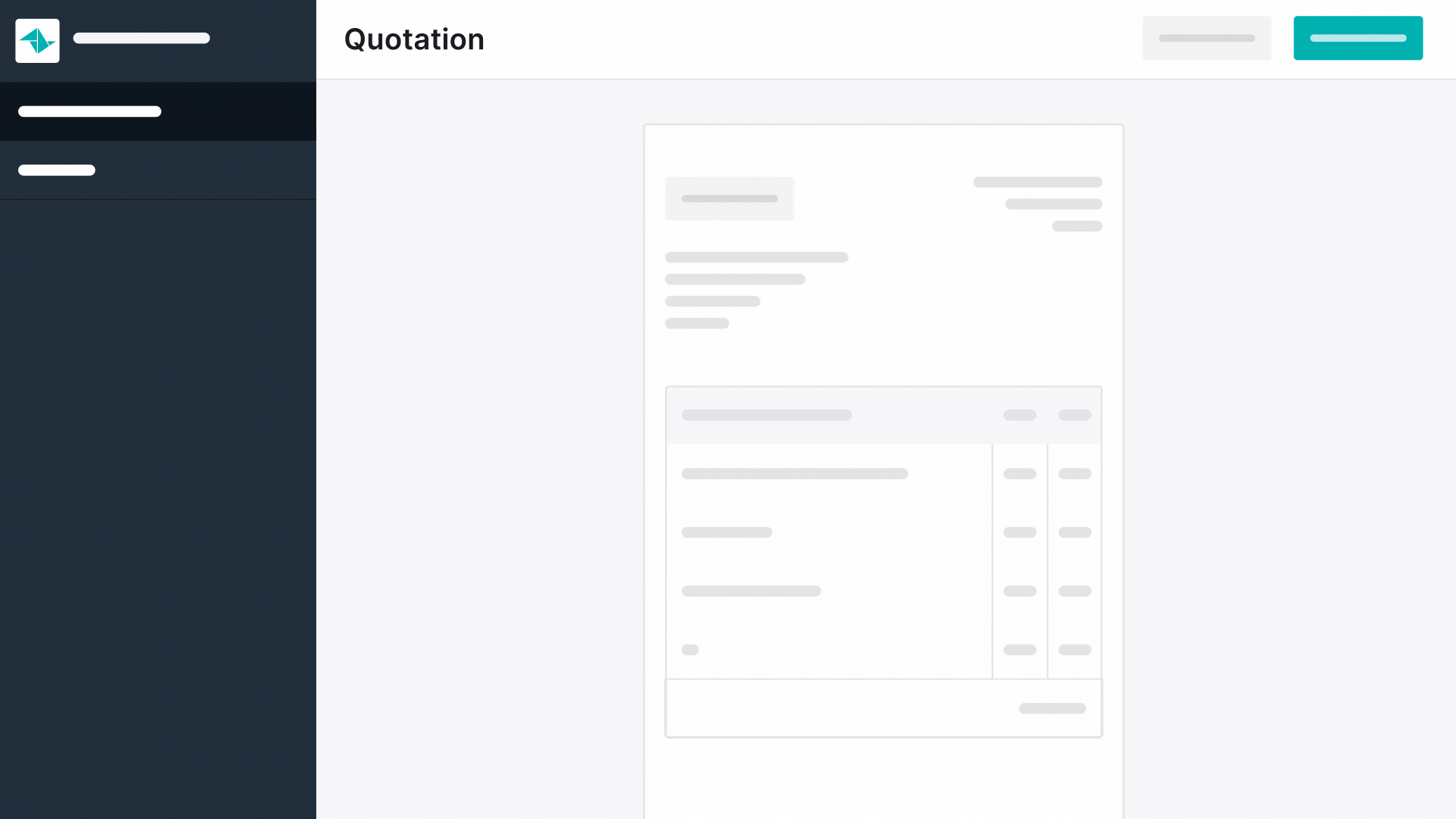 What was already working fine?
Unlike your local supermarket's promotions, the benefits of the old and the new Cloudsign can definitely be combined.
This still works perfectly:
You get a notification when an offer is opened and/or signed. That means: you don't have to look in your mailbox or dive into software to set up your quotation administration. The deal in Teamleader automatically jumps to 'Won', no manual follow-up action required. Just start working.
Old vs new
Twice as much feedback & 28% more signed quotations!
The first and most important conclusion is a double blessing: not only is there an increase of 28% in quotations signed, but they also get twice as much feedback.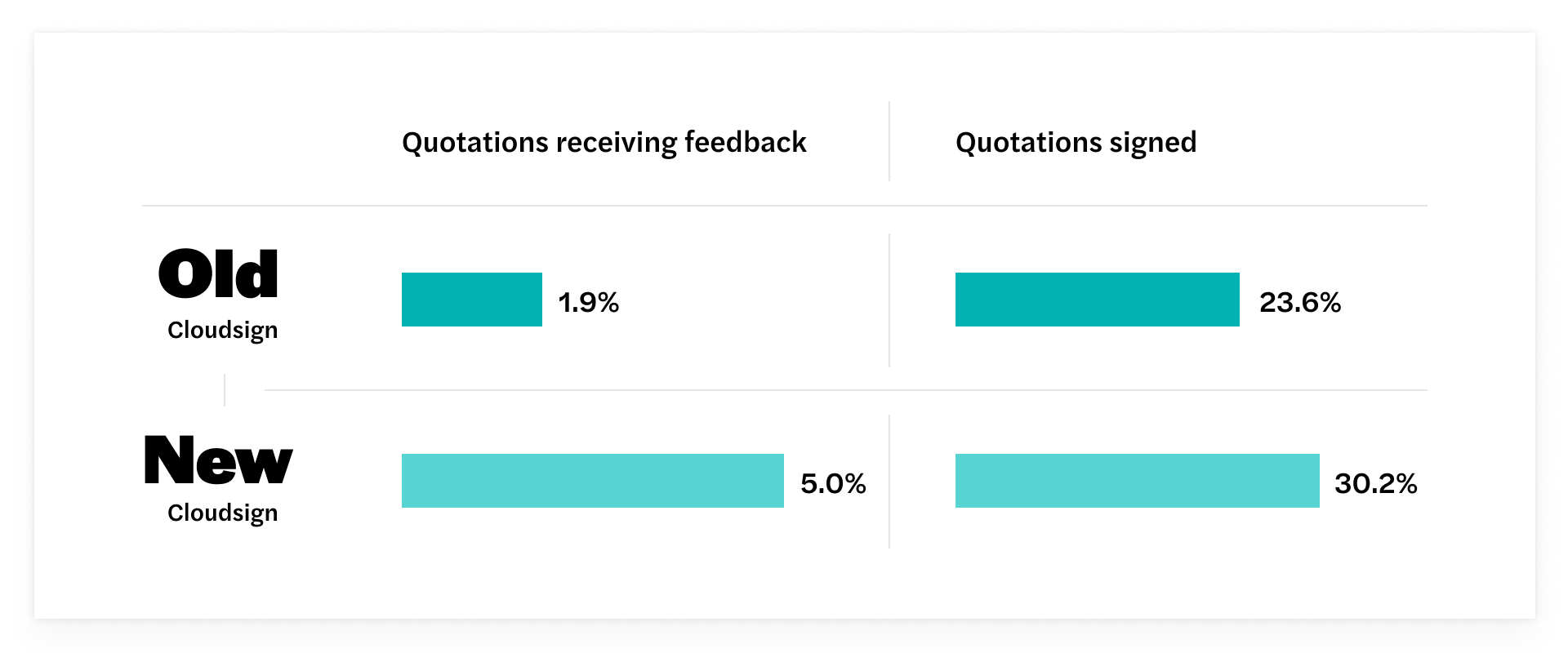 This is logical because the new Cloudsign looks clearer and works more user-friendly. Consequently, there are more interactions on the platform: our customers' customers know precisely how to give feedback, and accepting the quotation is noticeably easier.
Cloudsign makes sure your offer is not quickly clicked away.

Every web seller's nightmare is the same: thousands of customers throw something in their shopping cart but leave the webshop before they have actually paid. In supermarket terms, they dump their shopping cart in front of the checkout.

Why? In one word: friction. If you give customers reasons to hesitate and abandon their shopping cart, a large percentage will do so. Cloudsign is a friction killer. That's why it works so well.
The sales cycle is cut in half!
Cloudsign enables our customer's customers to give feedback immediately or even accept the quotation straight away. This prevents unnecessary back-and-forth via traditional channels (e-mail, telephone, etc.). Because the new Cloudsign makes this process even easier, the sales cycle is cut in half.