How to choose the right tools to optimize your business
What exactly are the differences between the right and wrong tools? What should you consider before choosing? A couple of pointers.
As the cost of technology decreases, tools to streamline business operations are no longer exclusive to major enterprises - but well within the reach of small businesses too. However, with all these tools available comes the challenge of selecting those that are actually most useful to your business.
So what exactly separates the right from the wrong tools? What should you consider before choosing? A couple of pointers.
Things to consider
Finding the right set of tools is the best way to set your business up for growth and success. In selecting the right tools for your company, answering a couple of questions can help you separate the wheat from the chaff:
What key processes do we have in place?
Which of those can be improved by tools?
Which features do we need exactly?
What tools do we currently use?
How would we integrate the new tool with other software?
How much will it cost?
Once you've answered these questions, you'll have a better idea of which tools can help your business thrive. To get you started, we've listed some other tips that may help.
Scalability is key
It's one thing to buy software that solves the problems you face today. But does the software grow with your business to meet your future needs as well? Can you adopt new features, integrate other tools, or add new departments to the tool? If you plan to expand your sales team in the future, how easily does the technology allow you to scale and implement those new users?
Scalability also means flexible pricing. A startup obviously doesn't have the same resources available as established enterprises. Whether your business expands or contracts in the future, the software you use should allow you to adjust the features you use based on your priorities, at a price that matches your current budget.
Less is more
With business software, less can often be more. Instead of drawing up huge checklists of features, focus on the core aspects you need most and determine whether the software suits your business. Simple processes, a clean user interface and excellent customer support offer so much more for small businesses than clunky, feature-rich software that wasn't designed for them in the first place.
"Startups and small businesses require tools that are built just for them."
Enterprise software is not only complicated and expensive, it also doesn't respond to the needs of small businesses. These have limited resources - both in terms of budget and people. Most do not have internal IT teams at their disposal to integrate and maintain business software. So in short? The software you're looking for should be accessible, easy-to-use and intuitive before anything else.
Look for easy integration and customization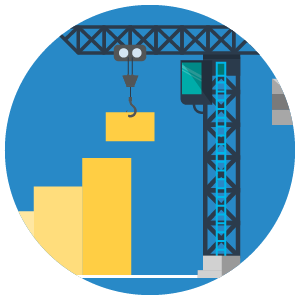 Seamless software integration allows for efficiency, transparency and helps you make more informed decisions. That is why your new software should easily integrate with the tools your business uses most. Among others, these could include:
Accounting software
Marketing automation platform
CRM tool
Web analytics software
Some enterprise-level software features all of this, and more. But these tools are not only too expensive for small businesses, they are also difficult to deploy and maintain. When selecting business software, you're better off determining your explicit needs so you can focus on these core features.
And each business, big or small, has unique needs of their own. That is why customizable software is often your best bet. For instance, say you adopt a CRM tool to manage contacts and sales: being able to add custom fields, filters and tags in each stage of your sales process will help you manage your business the way you intended to.
What do we offer?
Teamleader is an all-in-one solution that combines CRM, invoicing and project management in one, intuitive tool. Our aim? To help small businesses focus on developing their business. How? By automating time-consuming administrative tasks, streamlining the sales process, storing all relevant contact information in one, centralized database, and much more.
From managing leads and customers to tracking your sales activity, providing customer support and following up on projects, Teamleader offers you everything you need to manage the most essential aspects of your business - all in one place.
Don't just take our word for it: according to our customers, Teamleader can easily save you the cost of a full-time employee.