8 essential skills for great project managers
The project manager has a vital role to play in every project's success. Apart from harassing everyone about deadlines, he or she needs a particular set of skills to get the job done. Here are the 8 essential talents every project manager should possess to a greater or lesser extent.

1. Communication
The single most important skill for any project manager in any business can easily be determined if you take a look at why projects fail. 'Bad communication' is the undisputed winner of this not-so-elegant contest.
In other words, great project managers are great communicators. They know how to define clear goals, explain the tasks at hand in a way that enables all team members to immediately know what's expected of them, and enlighten the customer or requester with concrete results. They also know when a phone call or a meeting is required to get everyone on the same page, or when a simple email does the trick.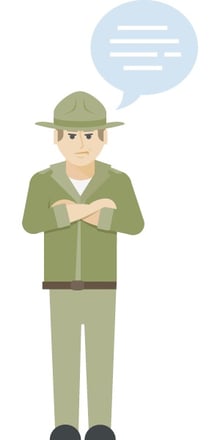 2. Leadership
Project managers are assertive and likable at the same time. They know how to inspire, set a clear vision and motivate each team member to work effectively towards a shared goal, setting concrete goals and objectives.
3. Diplomacy
People are only human after all, so many projects come with their fair share of (personal and professional) conflicts. A great project manager can defuse any conflict and create a win-win scenario for everyone.
4. Time management
Time management is more than adhering to a set schedule. It's also about the ability to respect your own time as well as that of your teammates. This means: dare to say 'no' when your schedule doesn't allow it, and make your meetings super-efficient.
5. Controlling costs
Another critical project management skill is budget management. Unless you're working for a sheikh or an over-funded start-up, chances are you'll have to account for every penny you spend. 'Less is more' is the motto of our time, so make sure you manage your project's finances intelligently to get as many things done with as few resources as possible.
Discover how you can take control of your projects with Teamleader's project planning feature.
6. Risk management
The ability to control or anticipate risks is a sign that you are on top of your project. After all, everyone hates surprises. Make a list of things that could go wrong before they actually do, and come up with ways to react so the impact is as small as possible.
7. Meeting skills
A project manager will likely spend a lot of time orchestrating meetings with various audiences, from team members and clients to the senior management and other stakeholders. Preparing for these meetings ahead of time can save you a lot of trouble: invite only the people who are crucial to the success of what you will be discussing during the meeting, send them the list of topics in advance (along with any questions), clearly state the objectives at the beginning of the meeting, and keep a close eye on the clock.
8. Subject matter expertise
Project managers who know the project's topic inside out have a major advantage over those who don't. While many people would argue that 'the planning is more important than the plan', what makes a project manager not just good but great is their expertise in the project's subject matter. Knowing the ins and outs allows you to answer tough questions and helps you adapt more easily when needed.
Teamleader will help you work smarter. Don't just take our word for it: try it yourself with 14-day free trial.